Twelve Alumni Go to the Wall of Fame
Friday, November 3rd, 2017
The Williamsville Schools Wall of Fame recognizes distinguished alumni of the Williamsville Central School District who serve as role models for today's students, demonstrating the importance of school and the power of learning. The Wall of Fame is sponsored biennially by the Williamsville Education Foundation. The Foundation hosts the Induction Ceremony and presents commemorative display plaques to the honorees, their high school alma maters, and the school district.
Twelve graduates from Williamsville's three high schools were inducted into the Williamsville 2017 Wall of Fame on October 27, 2017 during a celebration breakfast held at the Park Country Club. These alumni from Williamsville East, North, and South high schools have distinguished themselves in their careers and have made significant contributions to their communities through service and volunteerism.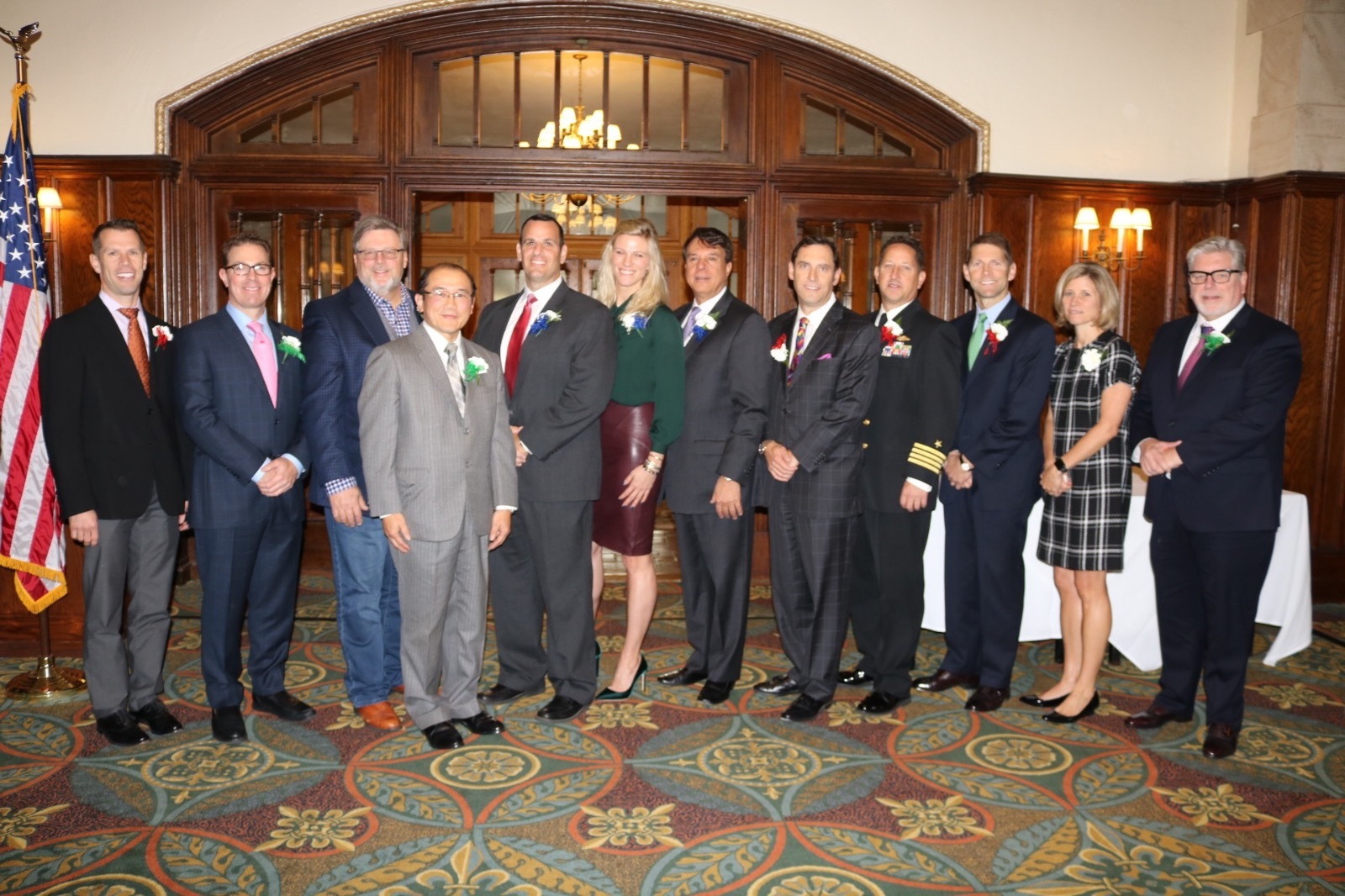 Pictured from left are:
Kyle Macbeth, Ph.D., Research and Development Scientist/Director; Myeloid Cancer Transitional Development at Celgene Biopharmaceutical Corporation; Marc Fineberg, M.D., Chief of Sports Medicine and Associate Clinical Professor of Orthopaedic Surgery at SUNY Buffalo, and Team Physician for the Buffalo Bills, Buffalo Sabres, and University at Buffalo Athletics; Richard Scherer, Journeyman Refrigeration Mechanic; Hiroshi Mashimo, M.D., Ph.D., Principal Investigator and Faculty Member, Harvard Medical School, Boston VA Healthcare System, Brigham and Women's Hospital; Detective Mark P. Pitirri, Amherst Police Department; Lindsay Anne Shookus, two-time Emmy award-winning producer for Saturday Night Live; Ronald S. Shubert, Partner at Phillips Lytle LLP; Steven J. Weiss, Partner at Cannon Heyman & Weiss LLP; Capt. Thomas F. Hurley, II, retired U.S. Naval Officer and Library Media Specialist at Williamsville East HS; Peter J. Olsen, Senior Vice President at M&T Bank; Bridget E. Niland, Athletics Director and Associate Professor of Business at Daemen College; and Sean P. Galliher, Associate General Counsel for Skechers USA, Inc.
Following the Induction breakfast and ceremony, the honorees return to their schools linking the past with today, as the new Wall of Fame members speak to current students about achieving their dreams.
Since the program began in 2000, 118 alumni have been inducted into the Williamsville Wall of Fame. The honorees have included entrepreneurs, musicians, authors, physicians, scientists, professors, entertainers, government officials, journalists, law enforcement and military officers, all of whom have attained great success in their careers and serve as role models in their communities.
Nominations for the 2019 Williamsville Wall of Fame Induction will be open as of January 1, 2018. Nomination forms will be available online from the Foundation website and at the district website, www.williamsvillek12.org. Applications will also be available from the district's Communications Office by calling (716) 626-8008.